When you think about fairies you might thought of them as small, feminine and very delicate creatures dressed in colorful, pastel or white cloths that live in fairyland. Little girls would love to get dressed in a girl fairy costumes such as Pink fairy, Tinkerbell pixie costumes, Butterfly fairy and other fairy dresses. Little girls would love to pretend, play, imagine and act like a fairy who will shower some pixie dusts.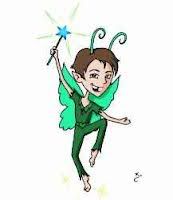 And speaking of pixie dusts, if you haven't heard of the Fairy Hobmother, he is a wonderful fairy that goes around visiting blogs in the blogosphere and showers some pixie dusts with a wonderful gift. This fairy comes from the fairy land of appliances online that sells the latest Fridge Freezer, wash dryers, washing machines and other kitchen appliances.
So, if you would like the Fairy Hobmother to notice you, just comment on this post and you may just get a surprise visit from him too!